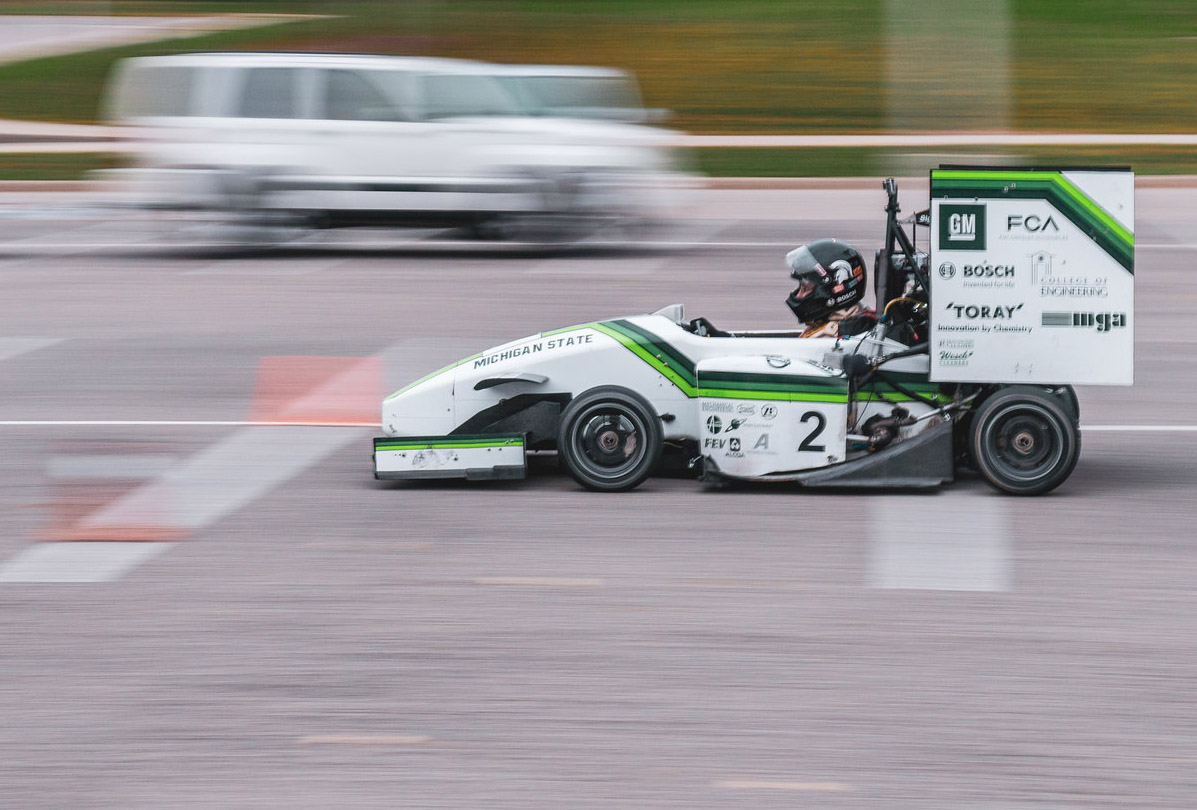 MSU Formula Racing Team finishes in top 10 of global competition | MSUToday
Collaboration is strongly encouraged among Spartans, and Broad College specifically offers opportunities—in and beyond business subjects—that allow students to explore their interests and work with others to apply teachings in the classroom.
On February 4, the MSU Formula Racing Teaman on-campus student organization, proudly represented the Spartans Will spirit at Formula Society of Automotive Engineers International Collegiate Design Series Competition. The annual event is the world's largest mobility design series with more than 550 teams competing worldwide, and the Spartans collaborated virtually to place in the top 10 worldwide.
Neil Hoskins, Supply Chain Management Junior
The MSU team was made up of undergraduate students from Broad College and the Colleges of Engineering and Social Sciences. Supply Chain Management Junior Neil Hoskins, Computer Science Senior Dave Yonkers, Economics Senior Michael Robert, and Economics Freshman Povilas Kvederas presented the business side of creating their car. race and the functioning of their team.
"It was great to work with so many engineering and social science students on this project," Hoskins said. "They see problems differently than I do, so I enjoyed seeing how they worked together and found solutions."
The FSAE challenges students from around the world to design, build, develop and race a small open-wheel racing car. The competition is divided into static events, such as business and design judging, as well as dynamic driving events, such as autocross and endurance. Although the race portion of the event was delayed this year due to COVID-19, the MSU team is currently upgrading its race car and is looking forward to competing in driving events this summer.
The Spartans impressively finished the virtual component of the competition in ninth place, ahead of schools including Brown University, Duke University, University of Michigan and Ohio State University.
"The work of this group is incredibly impressive and something our entire campus community can be proud of," Kymm Hadlock, a term finance faculty and advisor to the team's presentation, said. "Those of us on campus know that MSU is an intellectually rich environment filled with students who work hard, take their learning seriously, and can collaborate to produce great results."
Despite the harsh conditions of this pandemic, this team undoubtedly exemplifies the amazing results of embracing diversity and seizing new opportunities.
Hoskins added, "A lot of people are struggling with the virtual environment, but with a little persistence, you can still achieve great things during this unprecedented time."
This story was originally featured on the Broad College of Business website.