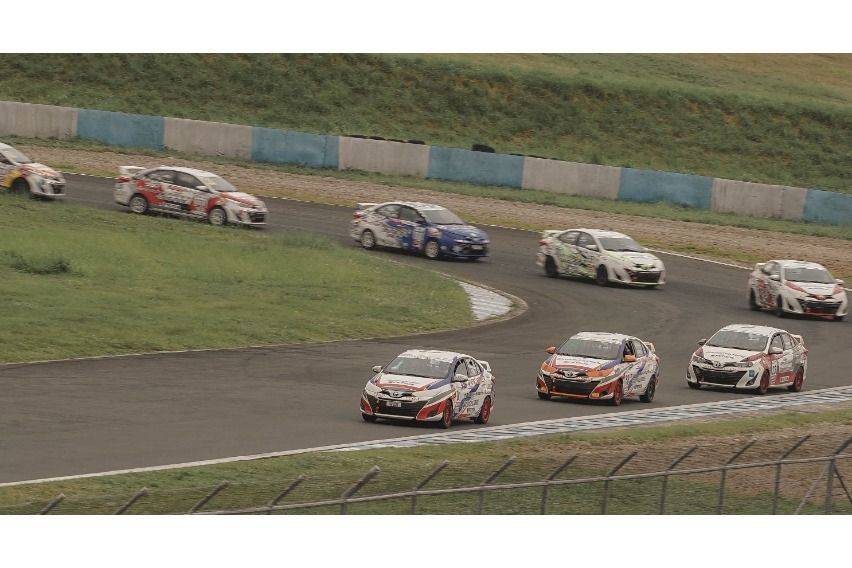 The 2021 Toyota Gazoo Racing Vios Cup season ends with a bang
MANILA: The Toyota Gazoo Racing (TGR) Vios Cup ended on November 6th.
KEY POINTS TO REMEMBER
What is the Toyota Gazoo Racing Vios Cup?
The TGR Vios Cup is a series of one-design races featuring the Vios. There are two races in the TGR Vios Cup, the circuit and the autocross competitions.
Who took part in the Toyota Gazoo Racing Vios Cup?
In circuit racing, the grid was made up of professional and intermediate racing drivers. In autocross, competitors included celebrities and influencers, as well as members of the automotive media.
How to watch the Toyota Gazoo Racing Vios Cup?
Due to the pandemic, the public can only watch the TGR Vios Cup on the Facebook pages of Toyota Motor Philippines and Toyota Gazoo Racing PH.
Toyota Motor Philippines (TMP) recalled that 49 racers gathered at Clark International Speedway. The third and final stage of TMP's premier motorsport program saw "exciting developments and new names entering the top spots".
As before, the 2021 TGR Vios Cup featured three circuit races and three classes: Super Sporting, Sporting and Promotional. The Autocross Challenge has been divided into two classes: Media, and Celebrities and Influencers.
The double points rule for the final two races of the circuit races gave competitors the opportunity to challenge the winners of the previous stage, who then put in more effort to secure the championship title.
In the first race, Jiro Garbes (JBT Racing), Jacob Ang (Eagle Cement Racing Team) and Pauland Dumlao (JBT Racing) took the top step of the podium in their categories.
In race two, Jason Lao (OTR Racing) took the win for the promotional class. Meanwhile, Jacob Ang dominated the Sporting Class, while Pauland Dumlao regained pole for the Super Sporting Class.
Riders Troy Montero (TGR Racing Team PH), and Joaquin Garrido and Estefano Rivera of Obengers Racing Team won in their respective classes for the final race. These riders were part of the promotional, sports and super sports classes respectively.
In the 2021 TGR Vios Cup Autocross, Jules Aquino won the title of champion in the Celebrities and Influencers category, followed by Arron Villaflor and Lexi Mendiola as second and third place, respectively.
In the Media category, Jose Altoveros (Autoindustriya) won the championship, followed by Enzo Delos Reyes (The filipino star/Magazine 2.0) and Paolo De Borja (VS! Magazine) as second and third placers.
The 2021 TGR Vios Cup Circuit and Autocross races can be reviewed on these Facebook pages: Toyota Motor Philippines and Toyota Gazoo Racing PH.
The TGR Vios Cup 2021 was organized in cooperation with the following brands: Bridgestone, Petron, Motul, Brembo, Denso, AVT, 3M, OMP, Tuason Racing and Rota.
Pictures of Toyota Motor Philippines (TMP)
Also Read: What We Learned From The TGR Vios Cup Autocross Challenge